What to say with your holiday card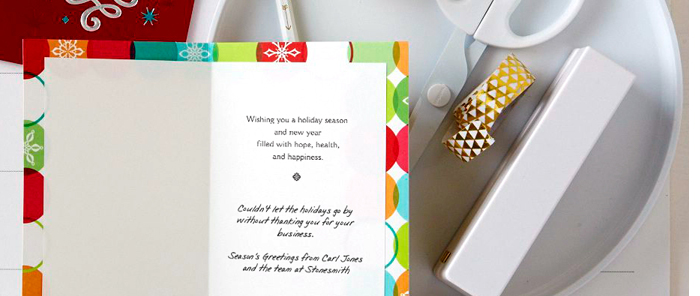 Thinking of sending a holiday greeting card? Around here we like to say, "It's the biggest little thing you can do." It's the number one way to tell your customers and employees how much they mean, not only to the success of your company but to you. Building close relationships just makes good business sense. So if you don't consider yourself a card-sending expert, here's some help to make you a pro.
Undecided as to which holiday greeting card works best for your business? Here's our rule of thumb: If you're known for friendly service, go for a more casual look. If you want to highlight professional expertise, select a classic design.
Now for the words.
You have your pick of a dozen Hallmark sentiments. Then, add your personal message. It can be as simple as a holiday wish or a few words of appreciation and gratitude. We asked a few Hallmark writers to share some ideas.
What to write in a customer's holiday greeting card:
Couldn't let the holidays go by without thanking you for your business.
It's a joy to take time to remember those who make doing business a pleasure. Thank you...and happy holidays.
Doing business with you always brings a smile. May your holidays be merry.
This holiday season brings a welcome opportunity to say how much your business is appreciated.
As we remember all the reasons to be thankful this special time of year, we couldn't help but think of you.
With appreciation for your business and with warmest wishes for a happy and prosperous new year.
What to write in an employee's holiday greeting card:
May the holidays remind us of our good fortune in working together and of all the successes we enjoy all year round.
We're looking forward to another great year of working together. Happy Holidays!
All year long you've been working hard to help others, and now's the time to treat yourself to a happy, restful holiday.
May the holidays find you and yours in good spirits, and may the coming year find us working together to make the world a better, brighter place.
As we complete a year of working together, we want you to know how very much you're appreciated.
We are successful because of talented people like you. Thanks for all your hard work and enjoy the holidays.
Now it's time to sign. Using a name makes your card sound more personal and heartfelt. If you'd like to represent the company, try something like: Monique Anderson and the team at Stonesmith.
Shop holiday cards
Hope your holiday season is everything you wish for, and thanks for letting us be a part of it.
Sign up for greeting card offers.